FANtastic fun doesn't stop when you book our stadium for your events here in Northwest Indiana! The RailCats and Steel Yard have six different spaces available for special events, private parties and facility rentals. All are perfect for any size special event or facility rental from corporate meetings to birthday parties to wedding receptions. Some spaces available on game days. Book a non-game day for a more private party with any of the spaces. Have your event at The Steel Yard!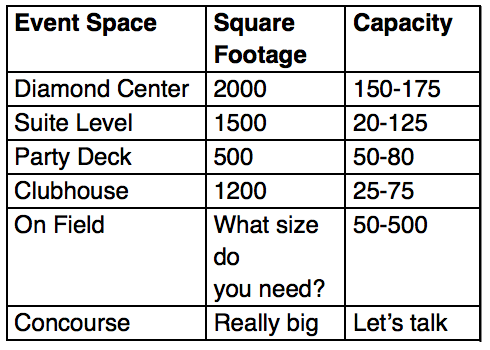 What our spaces offer:
• Complimentary Set up
• No hidden fees
• In-house catering options
• Tables (round, banquet, cocktail)
• Comfortable Chairs
• Tablecloth (white or black)
• Bar service (additional charge)
• Handicap accessible
• Complimentary on-site parking
• Basic AV equipment
• Corporate Meeting
• Bridal Shower
• Weddings
• Birthday Party
• Anniversaries
• Baby Showers
• Gender Reveal Party
• Wedding Reception
• Seminars
• Class/Family Reunion
• Holiday Party
• Graduation Party
• Proms
• Dances
• Christmas Party
• Tournaments
• Award Ceremony
• Club Meeting
• Private Party
• Special Events
We have four different customizable food packages for you to choose from to excite your guests:
Package A: Continental Breakfast Starting at $8 per person
Package B: Light Appetizers Starting at $12 per person

Package C: Ballpark Fare Starting at $25 per person

Package D: Banquet Starting at $35 per person

Package E: Custom Menu Pricing Varies
Ready to book? Call (219) 882- 2255 or email ylopez@railcatsbaseball.com
About the Railcats
A day at Steel Yard is non-stop fun, and that's even without the baseball! The RailCats promise a wide array of laugh-out-loud between inning entertainment, great giveaways, jaw-dropping fireworks and a family-first, kid-friendly atmosphere! RailCats fans come in all ages, shapes, and sizes, and the RailCats promise every fan will have fun.
Quick Links
Find Us
Steel Yard
One Stadium Plaza
Gary, IN 46402
219.882.2255