Current Roster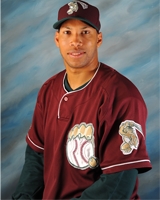 Frank Martinez
#15
Position:
IF
Height:
6' 1"
Weight:
203 lbs
Bats:
S
Throws:
R
Biography:
Martinez returns to Gary in 2017 after hitting .301 with seven home runs, 20 extra-base hits, 10 stolen bases and a team-high 56 RBIs in 2016. Before joining the RailCats in 2016, Martinez played for the Sioux Falls Canaries, batting .215 with four home runs and 15 RBIs in 22 games.
A native of Santo Domingo, DOR, Martinez signed with the Oakland Athletics at the age of 17 in 2003. Martinez, a switch-hitter began his professional baseball career with the Arizona League A's, batting .207 with three home runs, 21 RBIs and 15 extra-base hits. Martinez began the 2005 season the AZL A's before getting promoted to the Northwest League in the middle of the season. Martinez hit .167 with three RBIs and three stolen bases in Vancouver (Class-A Short Season). Martinez earned a promotion to Kane County (Lo-A) in 2006, hitting .261 with seven home runs, 58 RBIs, 11 stolen bases and 34 extra-base hits. Martinez advanced to Stockton (Hi-A) in 2007, hitting .267 with a career-high 12 home runs, 60 RBIs 28 doubles and 46 extra-base hits. In 2008, Martinez reached as high as Midland (Double-A), batting .260 with one home run and 5 RBIs in 14 games. Martinez went back to Stockton in 2009, hitting .260 with five home runs, 46 RBIs, seven stolen bases and 32 extra-base hits.
Prior to signing with the RailCats in 2016, Martinez played for the Normal Cornbelters, Evansville Otters and Southern Illinois Miners of the Frontier League from 2011-2015. In 2015, Martinez was named a Frontier League All-Star with the Miners after hitting .271 with four home runs, 50 RBIs, seven stolen bases, 21 extra-base hits and a team-best 57 walks and .375 on-base percentage.
About the Railcats
A day at U.S. Steel yard is non-stop fun, and that's even without the baseball! The RailCats promise a wide array of laugh-out-loud between inning entertainment, great giveaways , jaw-dropping fireworks and a family-first, kid-friendly atmosphere! RailCats fans come in all ages, shapes, and sizes, and the RailCats promise every fan will have fun.
Quick Links
Find Us
U.S. Steel Yard
One Stadium Plaza
Gary, IN 46402
219.882.2255