Current Roster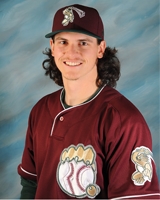 Ryan Fitzgerald
#19
Position:
IF
Height:
5' 11"
Weight:
180 lbs
College Experience:
Creighton University
Bats:
L
Throws:
R
Biography:
Fitzgerald begins his professional baseball career in 2017 with Gary after hitting .230 with one homer, 24 RBIs, three stolen bases and 14 extra-base hits as a senior at Creighton University in 2016. Fitzgerald's best collegiate year came in 2015, where the middle infielder was named All-Big East Second Team and to the Big East All-Tournament Team. A native of Burr Ridge, Ill., Fitzgerald hit .279 with a team-high four home runs, 13 doubles and 80 total bases as a junior.
About the Railcats
A day at U.S. Steel yard is non-stop fun, and that's even without the baseball! The RailCats promise a wide array of laugh-out-loud between inning entertainment, great giveaways , jaw-dropping fireworks and a family-first, kid-friendly atmosphere! RailCats fans come in all ages, shapes, and sizes, and the RailCats promise every fan will have fun.
Quick Links
Find Us
U.S. Steel Yard
One Stadium Plaza
Gary, IN 46402
219.882.2255